獣医の用語を英語で説明します!
3回目は内臓についてです!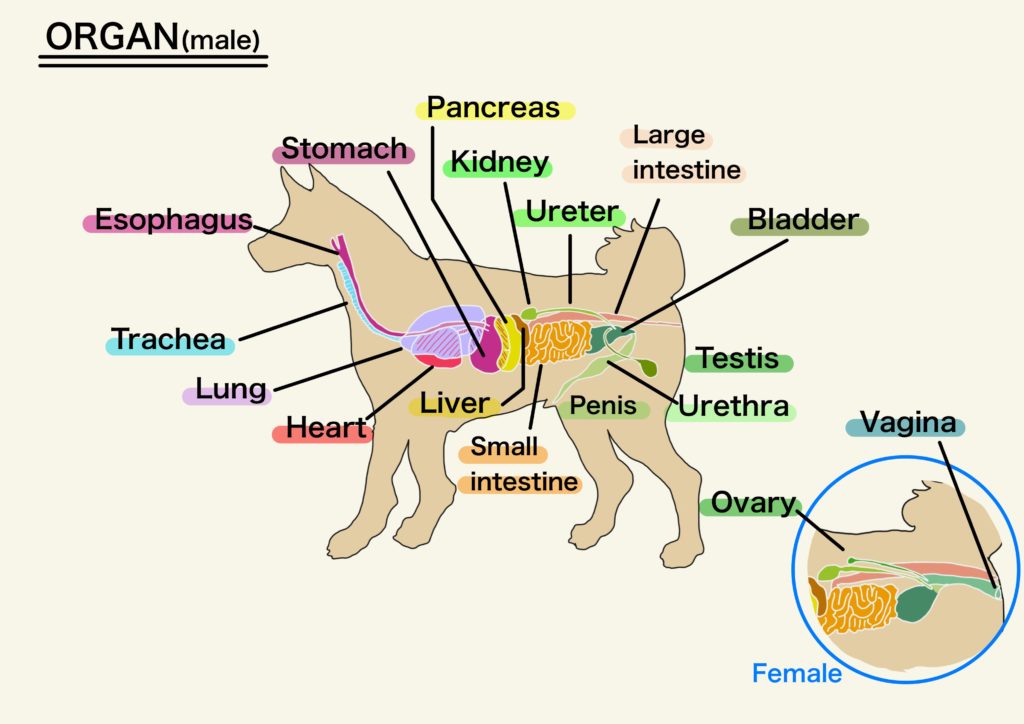 Esophagus(食道)
muscular tubeconnecting the throat with stomach
Trachea(気管)
The trachea is a tube and the passage of air.
It connects the pharynx and larynx to the lungs.
Lung(肺)
The lungs are a pair of organs located on either side of the chest.
The trachea conducts into the lungs its tubular branches, called bronchi.
The bronchi divide into smaller branches, or bronchioles.
The bronchioles eventually end in tiny air saca called alveoli.
In the alveoli, oxygen from the air is absorbed into the blood.
Carbon dioxide is got rid of here.
Heart(心臓)
The heart is a muscular organ.
It pumps blood through the blood vessels.
Stomach(胃)
The stomach is a muscular organ and receives food from the esophagus.
Liver(肝臓)
This organ's main job is to filtter the blood coming from the digestive tract.
It also detoxifies chemicals and metabolizes drugs.
Pancreas(膵臓)
The pancreas locates behind the stomach.
The pancreas is a gland, having both an endocrine and a digestive exocrine function.
Kidney(腎臓)
The kidneys are two bean-shaped organs.
Each kidney is attached to a ureter.
This organ's main function is excreting waste products produced by metabolism into the urine.
Ureter(尿管)
The ureters are tubes made of smoothmuscle fibers.
Urinary go through this tube from the kidneys to bladder.
Bladder (膀胱)
The urinary bladder is a hollow muscular organ.
This organ holds urine before disposal.

Urethra(尿道)
The urethra is a tube that connects the bladder to the urinary meatus.
Small intestine(小腸)
The small intestine exists between the stomach and large intestine.
This organ's main function are, mostly, digestion and absorption.
Large intestine(大腸)
The large intestine is the last part of the digestive system.
Main function is absorbing water.
Penis(陰茎)
The penis is a male intromittent organ.
Testis(精巣)
The testis is the male reproductive gland.
Vagina(膣)
The vagina is the female genital tract.
Ovary(卵巣)
The ovary is the female reproductive gland.
~additional words~
pharynx 咽頭
larynx 喉頭
bronchi 気管支
bronchioles 細気管支
alveoli 肺胞
blood vessels 血管
hollow muscle 中空筋肉
smooth muscle 平滑筋
intromittent organ 脊椎動物の交尾器官
https://www.webmd.com/digestive-disorders/picture-of-the-esophagus#1
https://en.wikipedia.org/wiki/Trachea
https://www.webmd.com/lung/picture-of-the-lungs#1
https://en.wikipedia.org/wiki/Heart
https://www.webmd.com/digestive-disorders/picture-of-the-stomach#1
https://www.webmd.com/digestive-disorders/picture-of-the-liver#1
https://en.wikipedia.org/wiki/Pancreas
https://en.wikipedia.org/wiki/Kidney#Function
https://en.wikipedia.org/wiki/Ureter
https://en.wikipedia.org/wiki/Urinary_bladder#Function
https://en.wikipedia.org/wiki/Urethra#Histology
https://en.wikipedia.org/wiki/Small_intestine#Function
https://en.wikipedia.org/wiki/Large_intestine#Function
https://en.wikipedia.org/wiki/Human_penis
https://en.wikipedia.org/wiki/Testicle
https://en.wikipedia.org/wiki/Vagina